How to Increase Employee Productivity with Online Training
Latest posts by Morgan Bradham
(see all)
When you take a look at productivity in the workplace, it can be shocking to see how little energy goes into productivity training.
For example, it's a well-known statistic that employees working a typical 40hr work week are only productive for about 2 hours and 53 minutes daily. That's less than one-third of the workday being spent on productive efforts.
If your workforce feels unmotivated or uninspired to work, this percentage could be much lower. Managers want to know how they can increase the productivity of their workforce, without leading them into burnout.
What makes this more frustrating is that you don't have to look very far for tips about how to increase productivity. There are tons of methods, teachings, and softwares out there that claim to help motivate your workforce to be more productive, but do they actually work?
As a manager, you need to look for ways to motivate your workforce from the inside out. Leaders are seeing the clear picture that alignment with values, professional development, and listening to employee feedback are the ways to motivate your workforce to stay productive.
By investing in your employees through consistent training, which is easily accomplished online, you'll be able to create a productive framework from the inside out.
Does Online Training Help Employees Become More Productive?
When you think about training, what first comes to mind might be the onboarding process or bringing in outside experts to speak to your staff over a lunch-and-learn.
Regularly investing in your employees through training doesn't have to be nearly so formal though.
Research has shown that online training has a lot more benefits than people might assume. Especially in the wake of the pandemic, e-learning has become more popular and advanced than ever.
Though in-person training may always have its place for certain topics, the appeal of online learning for employees is that it takes 40% to 60% less time as compared to in-person learning.
According to LinkedIn data, 90% of companies today are using online learning or offering it as a resource for their employees.
Training Magazine's 2018 Training Industry Report unveiled that 82% of organizations conduct some of their compliance training online. 28% of companies studied did all of their compliance training online.
The point is, online training isn't going anywhere. The more interest employers show in online learning, the more competitive the industry gets, and the higher quality of training you will have access to.
The training itself is a testament to your employee that you value their position in your company. Another report by LinkedIn found that 94% of employees indicated they would stay with a company longer if that company invested in their learning and development.
When you invest in your employees, everybody wins. You get more highly skilled talent, and they receive training that will benefit them for the entirety of their career. With the ease, convenience, and quality of online learning, there's really no reason not to take advantage of it.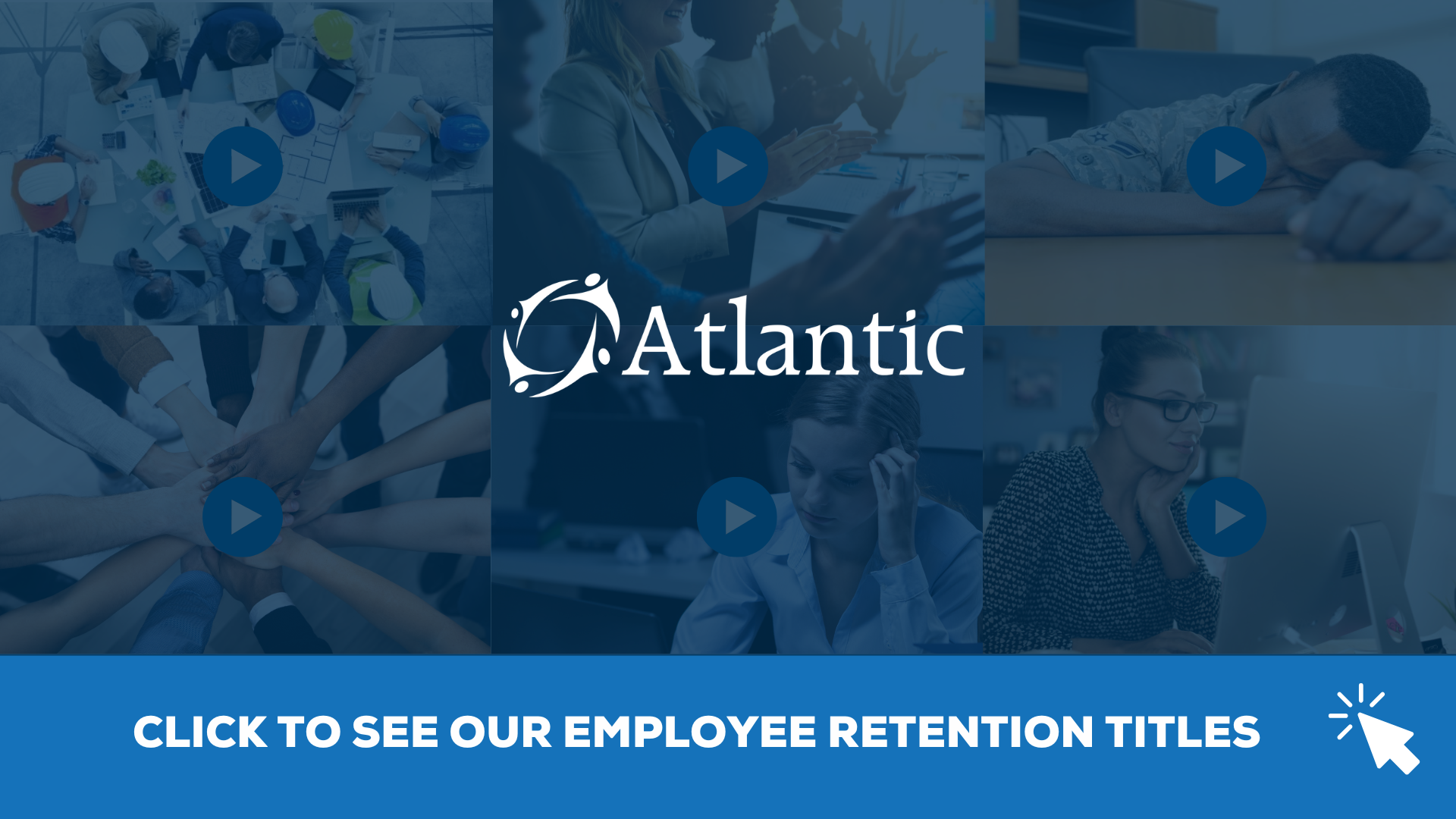 7 Ways to Increase Employee Productivity
So, you've decided to invest in online training. Now you just need to decide what kind of training will best improve the productivity of your workforce.
To help you with that decision, here are the top areas you'll want to focus on and provide training for that will have a direct impact on worker productivity:
1. Audit Your Onboarding Process
In order to be as effective as possible, examine the very beginning of your employee-employer relationship and audit your onboarding process.
According to data by Zippia, companies that have strong onboarding processes are able to increase their retention rates by 82%, and productivity by 70%.
Having an effective, thorough, digital onboarding process can help ensure compliance across the board. Auditing your onboarding process will make it easier for you to keep all data points and training procedures in one place. 
This makes it easier for your new hire too, since they can track their progress and refer back to onboarding documents any time they need to.
Onboarding is your second chance at a first impression with a new hire, so make sure your process is designed to encourage productivity.
2. Listen to Employee Feedback
The reason why your employees are lagging in their productivity could be due to a multitude of reasons.
So why don't you simply ask them?
Employee feedback is a valuable, but often underutilized tool in your company. The people who are closest to and most capable of solving the problems in your business are your employees. Their feedback should be considered at length.
Ask your workforce what tools and resources they would need to access more productivity during their workdays. Their answers may surprise you, or you might confirm some underlying issues that have yet to come to the surface.
Either way, don't sleep on this valuable feedback if you're looking to increase employee productivity.
3. Provide Mental Health Support
No matter what your role is, stress, anxiety, and depression can severely diminish focus and productivity.
Consider offering your employees mental health support in order to make sure their productivity doesn't suffer. Mental health support for employees can come through corporate wellness programs, sponsored online therapy sessions, or even designated break areas in your building where people can come to unwind and de-stress.
While you're at it, why not throw some plants in your office or send some to your employees working remotely? Proximity to indoor plants is linked with reduced psychological and physiological stress, so it could be a good way to show your employees they are supported.
4. Create a Cohesive Workplace Culture
Workplace culture can have a huge impact on productivity.
When your workplace culture is one of collaboration, positivity, and support, everyone will be more inspired to complete the tasks assigned to them.
Creating a positive workplace culture will also help reduce negative interactions, resolve conflicts quicker, and prevent any relationships from becoming toxic. 
Failure to handle issues like that can cause a lot of stress for your employees, further inhibiting their productivity, so make culture building a priority.
5. Understand Leadership Styles
If you have a team of potential leaders on your hand, or employees you'd like to train for leadership roles, it's important to understand their leadership styles if you want them to be productive.
The main leadership styles to look at are authoritarian, participative, delegative, transactional, and transformational. Understanding where your employees fall can help you utilize their strengths and mitigate their weaknesses.
It's important to understand that your employees all possess different strengths. Leaning into their strengths and interests will always be much more productive in promoting productivity than trying to mold them into a different version of themselves.
6. Transparency and Co-Ownership of Goals
Giving all employees something to work towards will always help boost morale and get people inspired to work.
As a company, be transparent about the upcoming yearly, five-year, and even ten-year goals of the company. Present all of this in line with the idea that your employees can see themselves in the future of this company, and how they will directly benefit from the goals you've set.
If you can, why not give your employees some say in the goals they want to strive for? If they can take ownership of a vision, they will be more inspired to stay productive as they work to make it happen.
Offer goal-setting workshops or seminars to get your employees inspired to pursue goals.
7. Provide Incentives and Career Growth Support
A surefire way to motivate your employees to stay productive is to offer incentives.
These incentives can and should consist of either monetary compensation or different benefits within the company.
As in, don't just offer to throw them a pizza party once a quarter and expect productivity to skyrocket.
Ownership in results is a key aspect of motivating productivity. Furthermore, you should offer career growth support as they learn new skills.
Employee development efforts have been shown to increase retention rates by 34%, while also increasing employee engagement by 15%. This development can easily be accomplished with online training, giving you a more productive and committed workforce.
Plus, you can always throw them a pizza party just for fun anyway.
All in all, when you strive to give your employees the best, invest in their development, and listen to their feedback, you have a pretty good chance of increasing employee productivity.
As a leader and manager, you're coming to understand that employee performance is not formulaic. You need to get to know how your employees work and what they value if you want to be true collaborators in company goals.
Productivity for the sake of productivity never lasts. Get as specific as possible with your desired results, meet your employees where they are, and create a plan of action to help them.
Get professional and robust online training.
It doesn't matter if you're a new or current client. We get it, compliance and keeping up with training can be difficult. Fill out our form and get real help. It's that easy. A dedicated training advisor will help you get the best courses for you and your company. No-hassle, no-pressure.