Construction's "Fatal Four", And How to Prevent Them
Anyone who knows anything about construction knows that not only is it an incredibly laborious industry, but it's also incredibly dangerous. Based on past statistics, we've been able to narrow down the bulk of safety risks in construction to four often fatal accidents known as the "Fatal Four". Which, if eliminated, would save about 545 workers' lives in America every year (OSHA).
The top "fatal four" construction accidents are:
(*This category includes construction workers killed when caught-in or compressed by equipment or objects, and struck, caught, or crushed in collapsing structure, equipment, or material).
The point here is not to scare you if you work in construction. The point is to inform you that considering we've identified the top fatal accidents in construction, you should use that as a cue to delegate your safety efforts toward prevention. Here's how:
Falls- Falls are not only the leading cause of death in construction, but they're also the number one cited OSHA standard. Despite being confident in one's ability to work at heights, a small slip or trip over a cord or piece of equipment can mean the peril of a construction worker. It's upsetting how many citations are issued to employers for lack of fall protection and heights training for their employees. Preventing falls is as easy as: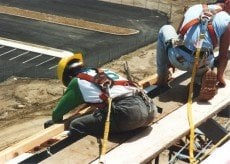 Providing fall protection: According to OSHA standard 

1926.502(a)(2)

, 

Employers shall provide and install all fall protection systems required by this subpart for an employee, and shall comply with all other pertinent requirements of this subpart before that employee begins the work that necessitates the fall protection.
Providing fall protection training: In addition to providing fall protection, worker's are required to fully know how to adorn and operate with their fall protection PPE.
Hosting safety meetings: You probably do this already, as safety meetings are vital (and free) to host. Its a great way to open the discussion up to employees, providing new information to both employers and employees, and to go over key safety objectives.
Being alert: Encourage employees to wear their PPE. If an employee is opting not use their PPE and has an accident, the employer will be the one most financially burdened due to worker's comp, etc.
Electrocution- While not as prevalent as falls, electrocution is still considered part of the "fatal four" and is also one of the top ten most cited OSHA standards. In the prevention of electrocution, electrical training is the bulk of the focus.
Employers and employees should be well-versed in electrical safety training. Additionally, only someone who's qualified should be working with electricity.
Proper electrical PPE should be worn when working with or around electricity.
Electrical housekeeping is important. Do not overload circuits, fuses or outlets. There should also not be any exposed wires.
Struck by Object- Anyone who's been working on the job long enough knows that freak accidents can happen, no matter how many preventative measures are taken. The best way to prevent accidents like being struck by something is to make sure employees engage regularly in safety meetings, even brief ones. It can help promote a culture of awareness and vigilance, so employees can foresee a potential hazard. Heavy equipment operators should be well-trained, especially in pedestrian safety during heavy equipment operation, and all employees should be adorned in visible, reflective PPE.
Caught/In-between- This category includes construction workers killed when caught-in or compressed by equipment or objects, and struck, caught, or crushed in collapsing structure, equipment, or material. In the effort to reduce the risk of this fatal hazard, work-site housekeeping is important.
Keep tools, debris, etc. cleaned up and not obstructing pathways.
Proper caution tape, signs, etc. should be used to warn of large holes, trenches, ground dips, exposed pipes or beams, etc.
Heavy equipment should be inspected prior to use, and operated on stable, even terrain.
Employees should be well-versed in safety orientation and safety housekeeping.
Bottom line- Even if you're confident that you won't get hurt in your construction job, any safety measures you take to protect yourself and your employees from potential work-site hazards can save someone from being seriously injured or killed. It's easy to get caught up in a seemingly non-threatening routine, but if safety is an after-thought it can be an invitation for danger. Stay safe, construction friends!