Related Training DVDs
by Atlantic Training
by Convergence
by Coastal Training / DuPont
Wellness & Fitness
by Atlantic Training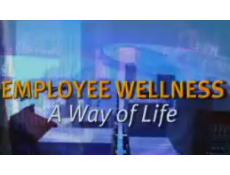 by Coastal Training / DuPont

To embed this infographic on your site, simply cost and post the code below.
We ask that you please include a short introduction to the infographic that includes a link back to this page.
See this example here.
American workers consider the office as the place they go to work and earn a living. The side effect of working in an office can be a body that gets out of shape, though that isn't anyone's intention. When workers are confined to a cubicle and desk chair for eight hours or more daily, some Health & Wellness Training and workplace exercises can be the answer workers are looking for.
As illustrated in the infographic above there is hope for all of the stationary office workers to help get in shape and burn calories while stuck in the cubicle. With Office Ergonomics Training everyone in the company can take advantage of keeping healthy and fit no matter how many hours are spent in the office.
• Making some simple changes outside of work and the cubicle can be a great motivator and help move workers in the right direction. Riding a bike or walking to work if the weather and travel distance allows it is a great catalyst. Walking at lunch or walking to lunch with a group of employees can build relationships between coworkers as well as help keep them healthy. Take the stairs instead of the elevator, park farther out in the parking lot. Statistics show active employees do better office work than non-active employees.
• View the 8 at desk exercises employees can do at their desk, using just their chair and desk. Exercises from chair dips to desk pushups and cubicle wall sits along with Ergonomics Safety Training can give employees a break during the work day while keeping them from being stationary all day with no exercise.
• It is important to be safe and to not overexert it with office exercises. Back Safety Training and making sure employees understand common office injuries from repetitive motions can help prevent workplace injuries.
If employees aim for a sixty-second desk exercise every fifteen minutes every day, they will accomplish thirty-two minutes total time of activity in an eight hour workday.
Get our latest infographics via Twitter!
Source: KTT