Lack of maintenance, poor communication fouled water for 300,000
Improper spill prevention, lack of maintenance: What can go wrong when an aboveground tank used to store harmful chemicals isn't inspected for 10 years?
Drinking water for 300,000 people can be contaminated, and hundreds end up seeking care for maladies ranging from rashes to nausea.
The U.S. Chemical Safety Board's (CSB) final report into the Jan. 9, 2014 release of chemicals into the water source for the Charleston, WV, area concludes Freedom Industries failed to inspect or repair corroding tanks.
Read Full Article At Safetynewsalert.com
Related Training DVDs:
HazCom (GHS) in Cleaning and Maintenance Operations
Covers: GHS Safety Data Sheets and container labels, toxins, corrosives and irritants, flammables, combustibles and gases, & more. View Product
Spill Prevention & Control Insuring A Safer World Training DVD
Make sure your employees are familiar with the prevention and control measures they must take in the event of a spill at your facility. View Product
Hazard Awareness: Ready Day One Safety Video & DVD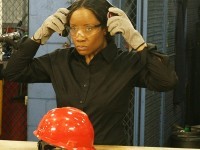 Covers information around hazard communication, personal protective equipment (PPE), emergency response and worker involvement. View Product