How can organizations improve hazard communication in the workplace?
Latest posts by Morgan Bradham
(see all)
The Occupational Safety and Health Administration (OSHA) reports that a whopping 32 million employees across the United States are possibly exposed to at least one chemical hazard. Additionally, hundreds of new chemical hazards are being introduced into the workforce every year, increasing the number of employees facing potential exposure.
This means that a staggering number of businesses are responsible for employees that face these hazards on a consistent basis. Hazard communication is a crucial component of keeping employees safe while fulfilling OSHA standards. Here are some tips for improving your workplace's hazard communication.
What is hazard communication?
Hazard communication is the general term used to refer to The Hazard Communication Standard (HCS) set forth by OSHA, which requires employers to offer readily available and accurate information and effective training protocols regarding the hazardous materials that employees might be exposed to during their work.
Exposure to these hazardous materials can come in the form of manufacturing, handling, shipping, storing, or any other form of activity that would place employees close enough to potentially be exposed to the negative effects of these materials. HazCom is a common way to refer to the processes, practices, and procedures employers have in place to meet these OSHA requirements.
What is included in hazard communication standards?
The HCS set forth by OSHA outlines how employers should inform their employees about relevant hazards and protective measures. Beyond stipulating that employers need to communicate risks with their employees, it also explains how this information needs to be disseminated. It requires specific training protocols giving employees instructions on how to stay protected against these hazards.
Although the objective behind this requirement is to minimize the negative effects of harmful materials, it's simply not enough to share these goals. Businesses are required by law to follow the HCS requirements accurately.
What kind of business needs to worry about OSHA compliance training?
OSHA compliance training is relevant for businesses of all sizes that operate within industries with OSHA requirements. It doesn't matter if you're running a startup with a handful of employees or a multinational organization. Adhering to government regulations is essential for keeping your business open. As a result, OSHA compliance training is an effective method for most companies to keep their teams up to date on the latest standards.
How to improve hazard communication in the workplace
Now that you understand the meaning of HazCom, it's time to look at ways to boost hazard communication within your business. Optimizing this crucial area will keep you and your employees safe while ensuring your business is compliant with OSHA regulations.
1.
Place warning labels where needed.
An essential and effective form of boosting HazCom is using warning labels. Companies dealing with potentially hazardous chemicals should mark, tag, or label these containers housing with relevant warnings including the name of the chemical, hazard symbols, and the contact info of the responsible party.
It's crucial that these labels be large enough to see and in prominent locations where people commonly look. Furthermore, written warnings should be in English and in other languages commonly used within the workplace, ensuring all employees can clearly understand what's being communicated. Symbols, words, pictures, and entire messages can all be part of an effective warning label strategy.
2.
Provide safety data sheets.
Safety data sheets (SDS) are detailed lists outlining all the hazardous chemicals employees might come into contact with during their daily activities. These comprehensive lists act as a central point of information employees can utilize to gain more information about each chemical. An SDS should include a variety of information including:
Chemical names including common derivatives

Physical characteristics for quick identification

Health effects associated with too much exposure

Precautionary measures employees can take to limit negative effects

A chemical's carcinogenic nature

The party responsible for the SDS First-aid and emergency responses
As with warning labels, SDS should be easy to find and readily available for employees throughout the place of business. It's also crucial to continually update these lists whenever new chemicals are introduced, or old chemicals are phased out. An SDS should always accurately represent the potential hazards that employees are coming into contact with throughout their work.
3.
Offer accurate information to employees.
The old adage "knowledge is power" rings true when talking about improving HazCom within your business. Generally speaking, the more information your employees have regarding potentially hazardous chemicals they're working with or near, the safer they'll be. Of course, this is wholly dependent on the accuracy and recency of the information. OSHA outlines a number of important discussion topics business owners need to include in their overall HazCom strategy.
First and foremost, you need to have discussions surrounding the Hazard Communication Standard and the associated requirements. Secondly, businesses are required to talk about specific parts of the hazard communication program that need to be present in the workspaces of employees. It's also crucial to talk about which operations or duties subject employees to certain chemical hazards during their daily work routine. Furthermore, it's imperative to mention where employees can find emergency procedures, information about hazardous chemicals, SDS forms, and more information.
4.
Use HazCom training.
One of the most effective ways to boost HazCom standards within your business is through specialized training. Having structured, detailed, and comprehensive HazCom training ensures employees know what hazardous chemicals are present in the workplace when they're exposed to these chemicals, what potential side effects to keep an eye out for, how to handle an emergency situation and other crucial pieces of information.
OSHA has specific requirements for employers with regard to HazCom training. These programs have to include the following components:
The manner in which the HazCom program is being enacted within the company

Where employees can find info about potentially hazardous materials

How warning labels and SDS can be read correctly

The various chemical hazards present within the workplace

How employees can stay protected from the negative health effects 

What measures the employer is taking to protect employees against hazards

Ways employees can detect an issue relating to hazardous chemical exposure
We also recommend reviewing OSHA's CFRs for more information. You can never be too safe when it comes to HazCom. 
5. What's the best way to offer HazCom training?
Understanding the importance of HazCom training is only half the battle. The next part is designing, structuring, and implementing a training program that's relevant to your business, aligned with OSHA regulations, and actually effective at informing your team. Obviously, that's much easier said than done. A fantastic way to achieve a high-quality level of HazCom training while saving valuable resources is to work with our online training program that focuses on offering regulatory compliance with our virtual programs. You'll save valuable time and money while ensuring your team gets a robust, thorough, and OSHA-compliant training protocol.
Through training, employees should get information on hazard communication, identifying and reporting hazards, reading and understanding labels and safety data sheets, and proper usage of personal protective equipment. Making sure training has these components is crucial for meeting OSHA requirements. The last thing you want is to put so much energy and effort towards finding the right training only to find out it doesn't include all the necessary components, making it crucial to work with an experienced and reputable provider.
6. Online & Virtual Training
A common misconception among employers is that HazCom training needs to take place on-site. In reality, online or virtual training can get the job done too while cutting down on costs. With online HazCom training, employees get exposed to the same crucial information in on-site training with the added advantage of being able to move at their own pace. Having an LMS is also an effective way to track employee progress and ensure they are moving along with their assigned training efficiently. It's a win-win overall. You can make sure your team is safe while staying in line with OSHA regulations. 
7.
Keep your HazCom strategy updated
All the aforementioned strategies for improving HazCom within your business are only as effective as the information contained within. If your warning labels, information, SDS, and training stop being relevant for the types of hazardous chemicals your team faces, then they're essentially meaningless. That's why it's crucial to keep everything up to date and accurate regarding the hazardous chemicals your employees come into contact with at your business. It'll keep your team safe while ensuring your company remains in compliance with OSHA requirements.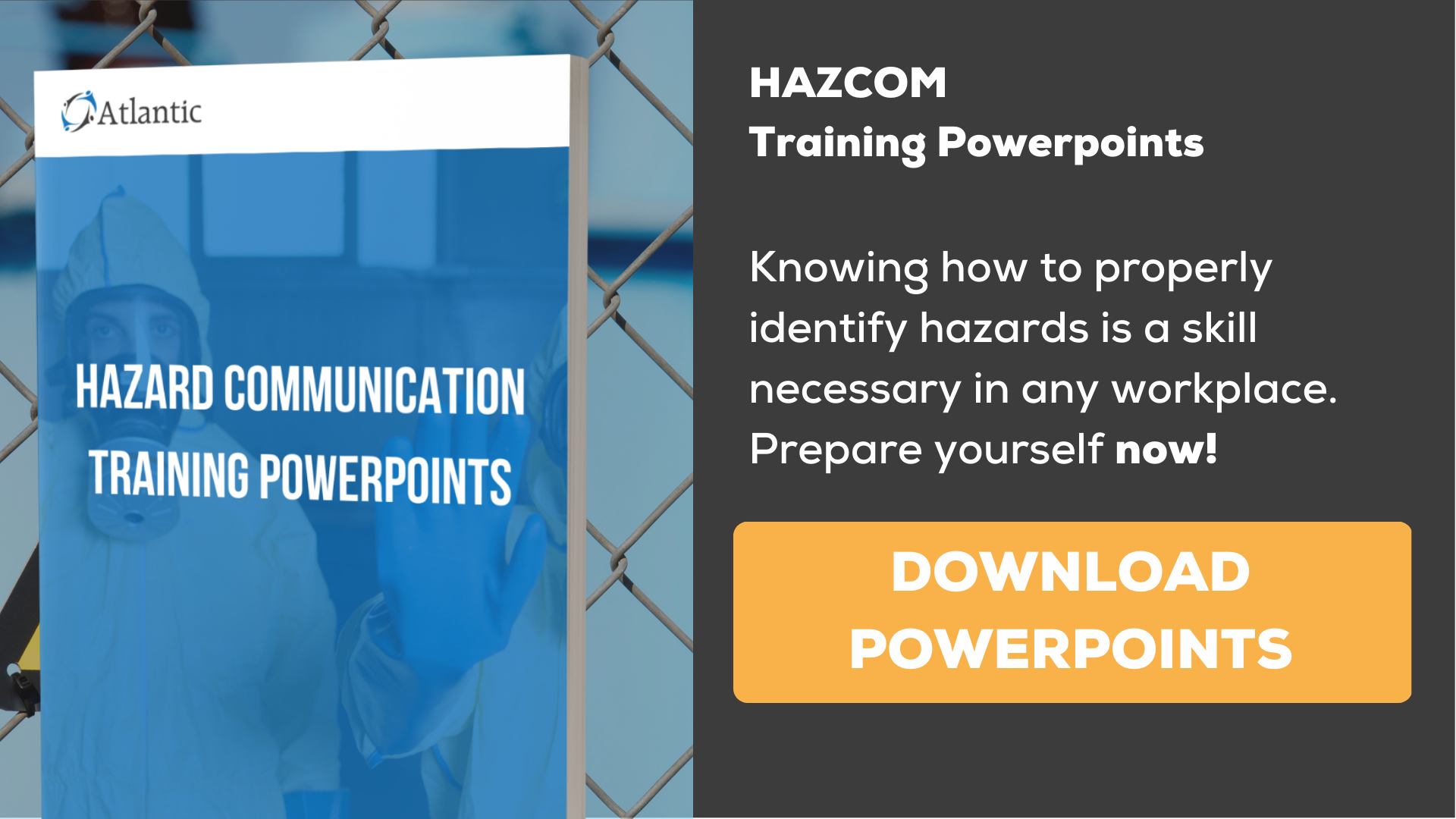 Get professional and robust HazCom training.
Create your own custom plan with a simple form. All you have to do is tell us a bit about yourself and a dedicated training consultant will get in touch with you shortly. We are here to help guide you when it comes to online training and we fully understand how important it is to have a training program for your company that actually works and runs smoothly. We don't hassle you and we don't blow up your email.. What do you say?