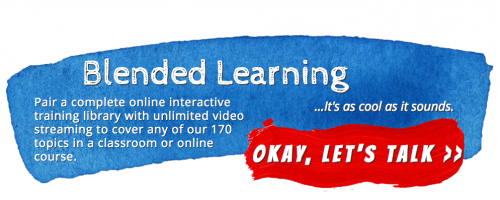 What is Blended Learning?
Blended Learning refers to the training method that incorporates both instructor led training and online interactive training. With a big team, it can be hard to train everyone at once. Even when it's scheduled, things come up in employees lives that deter them from being present for training. Some locations are tough to get to, so a flexible learning strategy is the efficient. Enter Blended Learning.
Atlantic Training offers you unlimited access to our online streaming library which assists in instructor led training, with the purchase of a complete interactive training library. Pick and choose your interactive training courses, and get unlimited access to ur streaming library. 100% record keeping, 100% safety training coverage for your team. Blended learning is the easy, convenient, quality, engaging training of future. Bet blended today.
The best part about our training courses is that they're 100% OSHA compliant and can seamlessly be uploaded to your existing LMS in either SCORM or .MP4 format. We provide you with any written materials necessary to train your team, and our friendly service staff is here to help you with anything, every step of the way.
Don't have a learning management system and are thinking of getting one to host your course? We offer our basic LMS, WAVE, to our customers at an extremely low cost (it's yet to be beat!) and we can even customize it with your company logo.
Blended training might just be the training method of the future, as it offers, that flexibility, features, and engaging training to comply with your safety training program and methods. EHS managers, Safety Trainers, Human Resource Managers and other EHS professionals can rest assured that their safety training is taken care of in the absolute optimal way, for a fraction of their budget. Get a free demo of WAVE today, or ask for one of our test courses for your LMS system. With Atlantic Training, safety starts here.