How to Properly Inspect your Forklift
This 2 minute safety training video covers: How to conduct a pre-shift forklift inspection, what to do if your forklift develops mechanical problem, how to inspect pneumatic forklift tires, how to inspect solid forklift tires, how to inspect forklift batteries, PPE to wear when inspecting a forklift, and what to check on an internal combustion (gas) forklift. This clip was taken from a full-length training video.Click here to watch the 17 minute full length version.
The Full-Length Version is Available on DVD!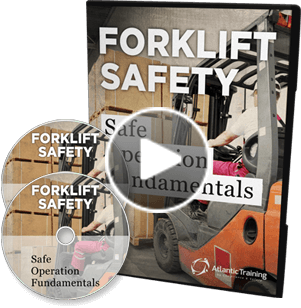 Atlantic Training's Forklift Training DVD Program reviews how to inspect forklifts and other powered industrial truck equipment prior to operation, safe operating procedures, forklift stability, and how to recognize potential problem situations.
This Forklift Training DVD Covers:
How to inspect your forklift

The seven classes of industrial trucks.
Equipment checkout.
A forklift's "stability triangle".
Safe operating procedures.
Lifting and lowering loads.
Trucks and loading docks.
Equipment maintenance.
...and more.
Video Transcript
Begin each day by giving your truck a once-over. A vehicle used around the clock should be checked after each shift. If you find something wrong, take the key out of the ignition and put a sign on the vehicle that identifies it as out-of-service and then alert your supervisor of the problem. Create a checklist for your inspection. Start with the exterior. Make sure moving parts operate correctly and safety guards are not bent or broken. The air pressure in pneumatic tires must be kept up to spec. Solid tires should not have any gashes or embedded debri.