Updated Confined Space Entry Training, New Rule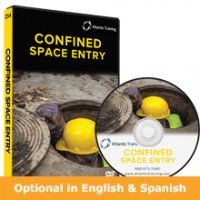 Every year, hundreds of employee deaths and thousands of injuries occur in and around confined spaces.
In 1993 OSHA addressed these hazards in the Permit-Required Confined Spaces Standard for General Industry. Its May 2015 Confined Spaces in Construction Standard (slated for full enforcement starting October 2) extends similar protections to workers in the construction industry.
The new Standard also clarifies many points in the earlier General Industry rule. And depending on the tasks their workers will be performing in the Permit Space, many employers that don't normally consider themselves to be in the "construction" business may find that the Construction Standard applies to them, as well.
You can provide all of these employers with critical information on how to stay compliant with OSHA's regulations and keep their workers safe in confined spaces. … with Atlantic Training's updated Confined Space Entry training.
The Confined Space Entry training program provides employees with current facts on confined space hazards, how a Permit Space Program reduces these risks, what roles they may play in a confined space entry, how to keep themselves and their co-workers safe inside, and more.