Musculoskeletal complaints on the rise among office workers: study
Olympia, WA – Workers are spending more time on computers and, as a result, the percentage of office workers with musculoskeletal issues is increasing, according to an ergonomics evaluation study conducted by the Washington State Department of Labor & Industries.
Twenty support services employees, representing bill processing, claims initiation and imaging departments, participated in at least one part of the four-phase study analyzing the effects of typical work activities and postures on musculoskeletal health. Employees were evaluated via survey, observation, computer task sampling and electromyography.
Read Full Article At Safetyandhealthmagazine.com
Related Ergonomics Safety Training DVDs:
Office Ergonomics Training Video & DVD
Recognize ergonomic problems, the potential of adverse effects and practical solutions employees themselves can use. View Product
Ergonomics For The 21st Century Training Video
Ergonomics 2000 program deals with preventing ergonomic-related accidents and injuries. View Product
Office Ergonomics It's Your Move Training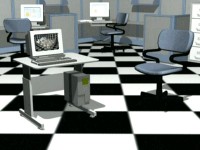 Examines the nature of musculoskeletal disorders and what you and your employees can do to prevent it. View Product