What Will New Labor Secretary Mean For OSHA?
President-elect Trump is set to nominate fast food millionaire Andrew Puzder to be the next U.S. Secretary of Labor. So, what does he think about OSHA and occupational safety?
Puzder is CEO of CKE, parent company of Hardee's and Carl's Jr. restaurants.
His record on OSHA and safety is similar to Trump's: He's said very little about it.
Just as Trump likes to use Twitter, Puzder writes a blog where he posts about various labor and business topics.
Read Full Article At Safetynewsalert.com
Related Training DVDs:
Safety Orientation Training Video & DVD
Covers: Developing "safety awareness", basics of accident prevention, hazard evaluation, safety housekeeping, tool use and more. View Product
JJ Keller Workplace Safety 101 A Guide for New Employees
Gives new hires the tools to develop solid safety habits and hazard perception skills from the start. View Product
OSHA An Introduction Training Video & DVD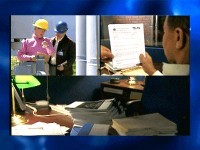 Introduce your employees to OSHA, some of OSHA's guidelines and while these guidelines are so important in the workplace. View Product