Sexual Discrimination:
The U.S. Equal Employment Opportunity Commission (EEOC) charges in a systemic lawsuit that the largest specialty retail jeweler in the country violated federal law by discriminating against a large class of female employees at stores nationwide.The EEOC asserts that the company pays its female retail sales employees less than male employees performing equal work and denies female employees promotional opportunities for which they are qualified.
In its suit, the EEOC claims the company intentionally discriminates against female retail sales employees by maintaining a system for making promotion and compensation decisions that are excessively subjective, and through which it has permitted or encouraged managers to deny female employees equal access to promotion opportunities and the same compensation paid to similarly situated male employees.
The EEOC seeks:
Monetary relief,
An order requiring the company to implement new policies and practices to prevent discrimination,
Training on anti-discrimination laws,
Posting of notices at the worksite, and
Other injunctive relief.
Related Training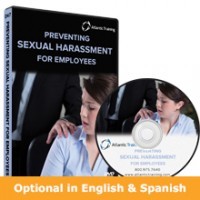 Preventing Sexual Harassment for Employees
(For Managers also available)

It's Not Just About Sex Anymore: Harassment and Discrimination in the Workplace DVD
View Product

Legal Briefs Harassment & Discrimination: Promoting Respect & Preventing Discrimination Video