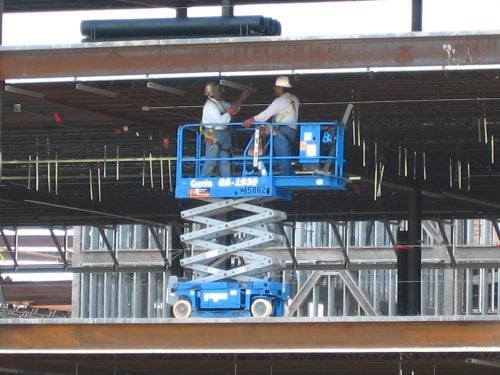 Scissor Lifts: Not just an exercise at the gym
Scissor lifts! And no I'm not talking about the ab-busting exercise at the gym that wouldn't hurt for me to do to counteract the beer I drink on the weekends. I'm talking about the elevated work platform that received it's name "scissor lift" due to the cross design of the steel beams used to increase heights of worker's who need to complete job tasks that are like, high up.
If it's a more technical term you're looking for, OSHA defines a scissor lift as "mobile supported scaffold work platforms used to safely move workers vertically and to different locations in a variety of industries including construction, retail, entertainment and manufacturing. Scissor lifts are different from aerial lifts because the lifting mechanism moves the work platform straight up and down using crossed beams functioning in a scissor-like fashion."
Being that scissor lifts are heavy pieces of industrial equipment that place workers at heights that could be potentially dangerous, it's important that worker's are fully prepared to be lifted up toward God without having to meet Him face to face. Here's how to safely work on the elevated platforms, scissor lifts.
1. Employers, do your part.
The first thing that must be done before employees even lay their eyes on a scissor lift, is having employers ensure that the rope descent system and the anchorage complies 1910.27(b)(1)(i) which also involves the owner of the building itself. Both the employer and the building owner are required to ensure (in writing) that "the building owner has identified, tested, certified, and maintained each anchorage so it is capable of supporting at least 5,000 pounds (268 kg), in any direction, for each employee attached." Once that is received, the employer can then take the next steps in rope descent, to comply with 1910.27(b)(2).
2. Fall Protection, DUH!
If you send your workers to work at heights without providing adequate fall protection training and equipment, you're probably a jerk. Falls are one of the leading causes of injuries and deaths in construction, hence why it's listed as number one in Construction's "Fatal Four", or the four most common causes of death in construction. Don't be a jerk, comply with 1910.29(a) and ensure that your employees are properly equipped with the knowledge, training, and equipment that's necessary to keep them safe. The rest is up to them, which leads up to our next point.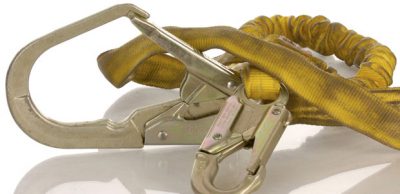 3. Employee Responsibility
Once an employee is trained on how to safely work on an elevated work platform per OSHA standard 1926.454, it becomes the employee's responsibility to hold their safety in their own regards. Employers can help do this by creating a safety culture that encourages safe behavior and punishes unsafe behavior (if an injury doesn't punish them first).
Additional Scissor List Safety Tips:
Identify all hazards prior to scissor lift use.
Inspect the scissor lift for full functionality and proper operation.
Never use a faulty scissor lift.
Only allow trained employees on a scissor lift.
Provide adequate fall protection equipment and PPE (covered this already, but doing it again. Don't be a jerk.)
Use scissor lifts according to manufacturer's instructions.
Properly maintain the equipment.
Interested in learning more? Try this free OSHA eTool. (which, incidentally, is where I got most of my information.)
We also have some free Scissor Lift safety training materials for ya, here you go!
As always, stay safe!! Off to the gym I go! (but maybe a beer first).
Sources:
https://www.osha.gov/SLTC/etools/scaffolding/scissorlifts/index.html
https://www.osha.gov/pls/oshaweb/owadisp.show_document?p_table=STANDARDS&p_id=9719
https://www.osha.gov/pls/oshaweb/owadisp.show_document?p_table=STANDARDS&p_id=9720#1910.28(b)(12)