Over 10,000 Severe Worker Injuries Reported First Year OSHA Requirement
Since Jan. 1, 2015, employers have been required to report any severe work-related injury – defined as a hospitalization, amputation or loss of an eye – within 24 hours. The requirement that an employer report a workplace fatality within eight hours remains in force. In the first year of the new requirement, employers notified OSHA of more than 10,000 severe work-related injuries, creating the opportunity for the agency to work with employers to eliminate hazards and protect other workers.
"Year One of OSHA's Severe Injury Reporting Program: An Impact Evaluation" found that in the first full year of the program, employers reported 10,388 severe injuries, including 7,636 hospitalizations and 2,644 amputations. In a majority of those cases, OSHA responded by working with the employer to identify and eliminate hazards, rather than conducting a worksite inspection.
Read Full Article At Ehstoday.com
Related Training DVDs:
I2P2: Injury and Illness Prevention Training
Information on how this organized approach to workplace safety can significantly reduce accidents and injuries. View Product
OSHA Recordkeeping for Employees Video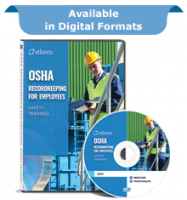 Shows employees actual workplace incidents that demonstrate how to report accidents and what information they need to furnish. View Product
Safety Awareness 101 for New Employees Training
Reminds employees that if they know the types of hazards that they can encounter in their jobs, they can guard against them. View Product