Corporate Safety Planning – Past, Present and Future
A few short decades ago, safety planning was not considered a priority for many corporations. Instead, most incidents and emergencies were handled as they occurred, as effectively as possible given the limited technology resources available at the time.
Today, workplace health and safety departments have evolved into something else entirely. Safety planning has become a must-have activity for corporation in order to protect organizations and their employees.
To fully understand the importance of corporate safety planning – and to glimpse at how much it has changed our modern work environment – you only need to take a quick look at how far it's come. Here is what worked, and what didn't work.
Read Full Article At Ehstoday.com
Related Training DVDs:
Job Safety Analysis Pro Active Planning Training Video & DVD
A way of planning ahead, a way to spot problems before they become accidents and cost lives or effect the companies bottom line. View Product
Step Back for Safety Series: Job Safety Analysis Training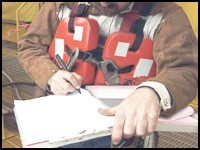 A systematic way to plan for safety by breaking down a job into steps, identifying the hazards of each step, and planning procedures. View Product
Job Safety Analysis Training Video
It takes a proactive approach to incident prevention and delivers a step-by-step formula to success. View Product