Colorado Supreme Court Upholds Firing of Medical Marijuana User
The Colorado Supreme Court has upheld Dish Network, LLC's 2010 firing of Brandon Coats, a telephone customer service representative, rejecting Coats' wrongful termination claim. Coats, a quadriplegic, had obtained a state license in 2009 to use medical marijuana to treat muscle spasms, and he was fired for violating Dish Network's drug policy after he tested positive for THC in May 2010 during a random drug test, according to the court's decision.
The amendment generally prohibits employers for discharging a worker for engaging in "lawful activities" off the employer's premises during non-working hours. Coats' lawyer argued that the amendment makes medical marijuana use at home, during non-working hours, a "lawful activity," but Colorado's highest court disagreed.
 A lower appeals court had reached the same conclusion, ruling that to be "lawful," an activity that is governed by both state and federal laws "must be permitted by, and not contrary to, both state and federal law."
"Nothing in the language of the [state's lawful activities] statute limits the term 'lawful' to state law. Instead, the term is used in its general, unrestricted sense, indicating that a 'lawful' activity is that which complies with applicable 'law,' including state and federal law. We therefore decline Coats's invitation to engraft a state law limitation onto the statutory language," the Supreme Court's decision states. The case is Coats v. Dish Network, No. 13SC394.
This article was retrieved from Ohsonline.com
Related Drugs and Alcohol Training DVDs:
Drug and Alcohol Abuse for Employees DVD
Protect your employees, yourself, and your business with this comprehensive substance abuse training kit. View Product
Recognizing Drug and Alcohol Abuse for Employees Training DVD
Cultivate a drug-and-alcohol-free culture with this program. View Product
Substance Abuse Awareness Training Video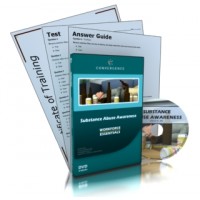 Raises awareness about workplace addiction by discussing the effects of different types of drugs. View Product