How WAVE Works
Browse Our Catalog
Take a look through our vast, comprehensive catalog of safety titles that cover topics in all major industries including Construction, Manufacturing, Healthcare, Transportation, and more! Watch previews for all of our titles to find what you need.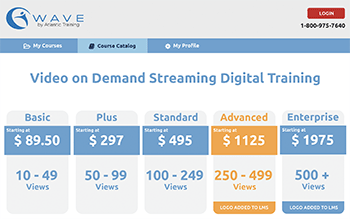 Review Your Needs
We have many different pricing packages that are tailored to your needs. Packages include both VOD (view-on-demand) or unlimited viewership. Whether you have a small company or enterprise level, we crafted programs to protect your safety and wallet.
Start Training
Take your training where it's needed! Start streaming your training from desktop and mobile devices from anywhere with an internet connection. Be sure to review our system requirements to ensure you have the right tools to display your training!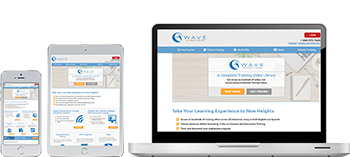 System Requirements
Connecting to the screen will vary depending on your projection. If you're using your monitor, you won't need any additional cables. If you're using a TV or projection screen, you'll need either a HDMI cable or streaming device in TV.
Once you're all connected, be sure to have speakers strong enough to reach the class. If the training is taken individually, this shouldn't be an issue but if you're in a classroom, be sure to check your speakers.
Need More Information?
Fill out the form below and one of our dedicated online training specialist will be in touch soon!