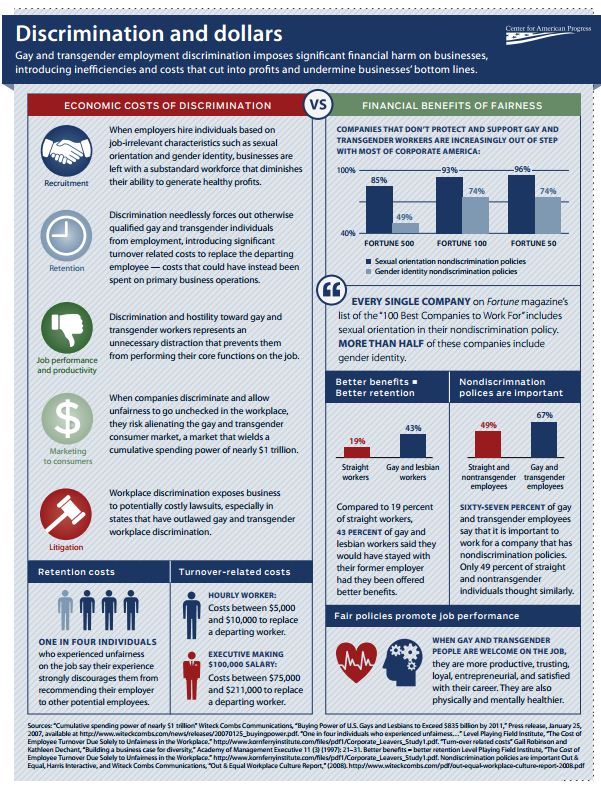 To embed this infographic on your site, simply cost and post the code below.
We ask that you please include a short introduction to the workplace discrimination infographic that includes a link back to this page.
See this example here.
The significant cost damage on organizations due to workplace discrimination of gay and transgender employees exposes the business to profit loss and unproductiveness.
Companies need to consider retention and turnover as it reflects and relates to their business model. By offering diversity training videos it will be less likely those who were treated unfairly speak poorly of the organization and employers can save money from having to replace a skilled workforce by keeping employee turnover rates low. Being fair goes a long way in life of the business.
This workplace discrimination infographic highlights the problems that arise from discrimination and the benefits of being fair.
• A hostile work environment that allows unfair practices distracts and prevents performance and has a direct correlation with profits and overall business operations.
• Lawsuits can be costly and often states have laws in place to stop discrimination against gay and transgender employees.
• The money lost to force out skilled gay and transgender employees and the time spent to replace them is better spent on the primary business goals of the organization.
• By protecting and supporting gay and transgender employees employers experience a higher productive and loyal workforce.
• Profit from fair practices and nondiscrimination can set a business apart and bring quality gay and transgender employees on board bringing more profit to the company. They work hard for their companies if they don't feel discriminated against.
By following a model of fairness and offering fair benefits and wages, companies can limit loss in profits by eliminating discrimination to gays and transgender workers. When supervisors and managers are offered human resources training the hiring and firing process can move smoothly without fear of litigation from discriminatory lawsuits. HR can also benefit from ada training dvds to better understand the laws and provide an understanding to working with all types of people.
Get our latest infographics via Twitter!
Related Category: HR Training
Source: AP